Search / 574 results found Showing: 1-10 of 574
COLUMN / Hikers are flooding our public lands, so I ask the question: Why can't people just leave the poor rocks alone?
The poignancy of Tim Treuer's article, "As Lake Powell dwindles, wonders open up," cannot be missed. Most of us recognize we are experiencing climate change, whether we refer to it as "Climate Change" or just another of the myriad changes in the geo-history of planet Earth. Our shrinking Lake Powell is not unique, but only one of many dwindling fresh-water bodies world-wide, including Lake Chad in Nigeria and Lake Titicaca nestled between Peru and Bolivia.
We live in New Mexico, however, and the current state of Lake Powell is a near concern. A sad concern...
Jeremiah Spelas says he grew up in Pennsylvania and has been hitchhiking for the last year-and-a-half "since the lockdown." He doesn't seem to be the average panhandler one might see outside local businesses, especially with his handmade signs, sparked with a bit of humor. The other side of his sign says "My ex had a better lawyer."
After the Rainbow Family Gathering's descent upon the Carson National Forest from late June to July 7, between 40 and 50 people have stayed behind to deal with the waste made by an estimated 5,000 people (at its height) in the area near Cerro Vista off Forest Road 76 in Taos County.
The group, who gathered as a smaller "prism gathering" (one of four around the country) drew nomads and locals alike, with many spending two full weeks up in the mountains near Tres Ritos, much to the dismay of some Taoseños, as could be seen visibly on social media.
The town and county of Taos received approximately $365,000 from the New Mexico Tourism Department (NMTD) to help the area bounce back from pandemic-slowed tourism.
The department took requests from applicants throughout the state, and chose to help those most affected economically by the pandemic as part of the New Mexico True campaign.
The pandemic was particularly challenging for Taos Pueblo, but in its more than 1,000-year old history, it has faced far more dangerous perils, and has survived and thrived despite them. According to Taos Pueblo Director of Tourism Ilona Spruce, the year 2021 will be no different.
The underground surfaces pretty quickly in Taos.
Trying hard to keep her event under the radar and low key, by papering the town bulletin boards with broadsides and getting word out via the proverbial grapevine, news of the Hitching Post barber Kristeena Smith's July 4th event spread like wildfire in a town starved for reconnection with community.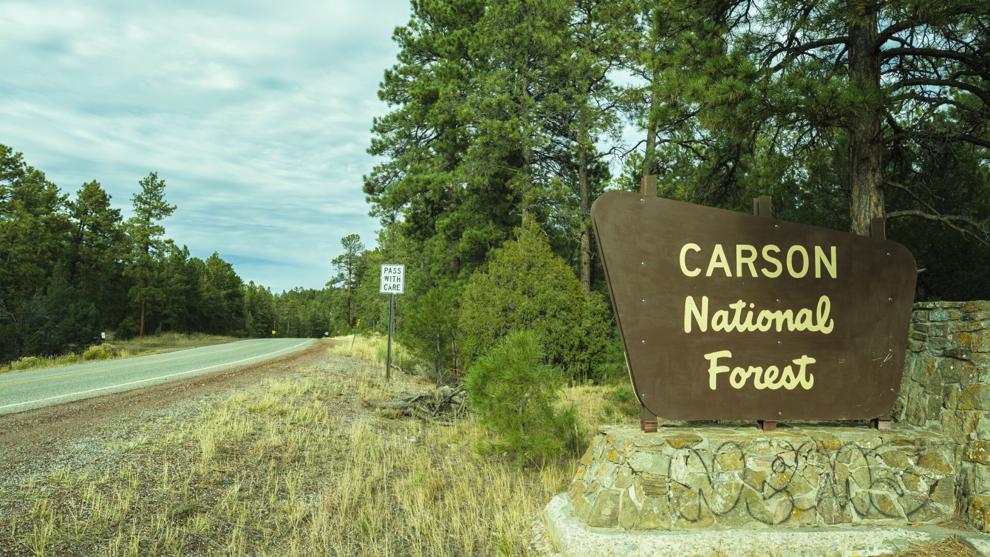 Carson National Forest
A sign welcomes visitors to the Carson National Forest.
With the state's full opening July 1 officially announced, businesses and governments around the Enchanted Circle are gearing up for an influx of tourists on par with 2019 (the busiest tourist season to date), but many area businesses are struggling to meet the demand.
The pent up desire for travel is putting Taos back in the tourism saddle. People are excited for a return to normal, explained town of Taos marketing and tourism director Karina Armijo. "The demand is really off the charts in terms of travel, without much marketing efforts behind it," she said.
While it's not easy to accurately forecast summer travel numbers, Armijo said Lodger's Tax revenue indicated the town is on track to surpass 2019 tourism numbers. "If April is any indicator, the trend is increasing upward, maybe five or 10 percent from [2019]," she said. "I think it's gonna be bigger than we've ever seen for the summer."
After the hoopla around the Rainbow Gathering and the reopening of local shops, it seems the answer to that question is a solid: No.
We want tourism and normalcy. But the reality of having to return to work wearing socially-acceptable attire is a different story. Reopening our home and welcoming in the neighbors, who may or may not place the same value on vaccination and the fight against COVID as we have? Our house just isn't ready for that.