Search / 40 results found Showing: 1-10 of 40
Three members of the Town of Taos Planning & Zoning Commission were left befuddled when they recently received letters informing them they had termed out of their positions. Commissioners Pavel Lukes, Doug Patterson and Billy Romero all received letters from the town government telling them their terms were up. This now leaves the commission with just two members - not enough to call a quorum.
The town explained that the term limits had been set for some time, but said COVID-19 got in the way and the town had "accidentally overlooked the annual reappointment of advisory boards and commissions and had let it slide for a few months after realizing it," said town of Taos manager Rick Bellis in an email.
Pavel Lukes, founder and owner of Dreamcatcher Real Estate Co., Inc., has had another year as the Top Producer in the Taos real estate market.
A traffic study that residents said was outdated and faulty proved fatal to a 49-lot housing subdivision planned near downtown Taos as the town's planning and zoning commission voted 4-1 to deny the developer's application.
The town of Taos planning and zoning commission voted Wednesday night (Feb. 3) to deny the application from Alex Abeyta of Abeyta Engineering for a 49-lot subdivision set to be located across from Cid's Food Market and next to Not Forgotten Outreach.
After a heated two hour public hearing to discuss the previously tabled application for the Camino Fiesta subdivision, the town planning and zoning commission eventually tabled the application until Jan. 6 pending several updates.
Veteran Taos realtor Norris Romero said, "Years ago, people would say if the mountain wants you to stay here, you'll stay, and if it doesn't you won't. I believe that."
It's a commonly held belief here in Taos, and they're still saying it now. So how does the mountain decide whom to keep? Perhaps the mountain invests in the passion of individuals willing to stand their ground through extreme changes, not just then and now, but also into the future.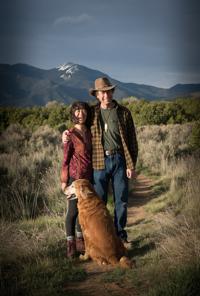 Small Spaces: Adobe Casita at Cañon
Owners, Glenn & Tomoko Parr. Sylvia Renick