Search / 37 results found Showing: 1-10 of 37
Centinel Bank was founded in Taos in 1969 with a mission to serve the financial needs of our community. Through the years, they have remained focused on serving Taos County. Centinel Bank remains Taos' only locally owned and operated community bank, working with customers to help them realize their financial dreams, whether opening a business or purchasing a home. They also nurture our community by donating time and money to important causes, and contributing tax dollars that help maintain local municipalities.
Shred those sensitive papersCentinel Bank will host a free community shred day Saturday (June 1) from 9 a.m. to noon. Bring your unwanted papers and documents to be safely shredded so no one can …
In 1969, the New York Jets upset the Baltimore Colts in Superbowl III. Neil Armstrong walked on the moon. Woodstock was held near White Lake, New York. John Lennon …
- 10 YEARS AGO -'Smith's new gas station ignites competitive prices'By Patricia ChambersNov. 26, 2008Ten years ago, Smith's supermarket opened its gas station in Taos and consumers were happy about …
Isaac Medina es el Tigre de la Semana porque es un estudiante excelente de la Escuela Secundaria de Taos. Isaac está en su último año y se …
While Facebook privacy lapses capture the most glaring headlines,  more insidious issues with digital technologies are at play. For example, the FBI issued a warning that home WI-FI routers …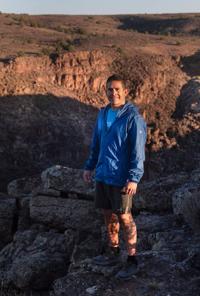 Centinel Bank's Angel Reyes named a 2018 'Unsung Hero'
Before becoming the chairman of the board and CEO, Reyes, a spry 46, was named the president of Centinel Bank in 2003. Prior, he held the title of CFO in 1998. And it all started from behind a teller's window. 
Centinel Bank and ICBA are reminding consumers to protect their personal data online. "Educating customers about account security and cyber threats is something we all must be conscious about if …
Passionate about nature
"Native Dancer and Orange Hill," batik on natural material by Dolores "Dee" DiCamillo Courtesy image