They strode through the predawn darkness hand in hand, toward the hospital. Past the sliding glass doors, a few lonely lights illuminated empty hallways. A fog of silence hung in the air.
Jayme and John Serbell already knew which way to turn, which double doors to enter, which intercom to buzz. With heavy eyelids and tear-glazed cheeks, they passed displays of smiling children. Administrative staff asked where they were headed.
"Labor and Delivery," Jayme said, but it felt like a lie. The Labor and Delivery wing was supposed to mean life and excitement, but all she felt was dread.
Resting her hands above her womb, she felt the flutter of life within. In an ultrasound room, the technician swivelled the screen around so the couple could see their sons together one final time. Sonic echoes confirmed the doctor's suspicions – one twin's condition was deteriorating. They would need to operate soon. Jayme's grip tightened around John's hand and tears spilled from their eyes.
They'd have to say goodbye before they'd even had a chance to say hello. 
They weren't ready.
John pulled his wife close, wrapping his arms around her belly. Jayme wanted to stop the nurses and doctors from coming in and out of the room. She wanted to tell them all to hold on for just one more hour. One more day. 
She gripped John's hand until it was time to let go.
Part I: New pregnancy, new outcome
Jayme grew up playing barefoot street hockey with siblings and neighbors, dodging potholes and rocks in the cul de sacs of Affton, Missouri. She is quick to contrast the tiny unincorporated neighborhood in south St. Louis from the suburbs farther north, with their fancy strip malls, neighborhood watches and professionally trimmed lawns.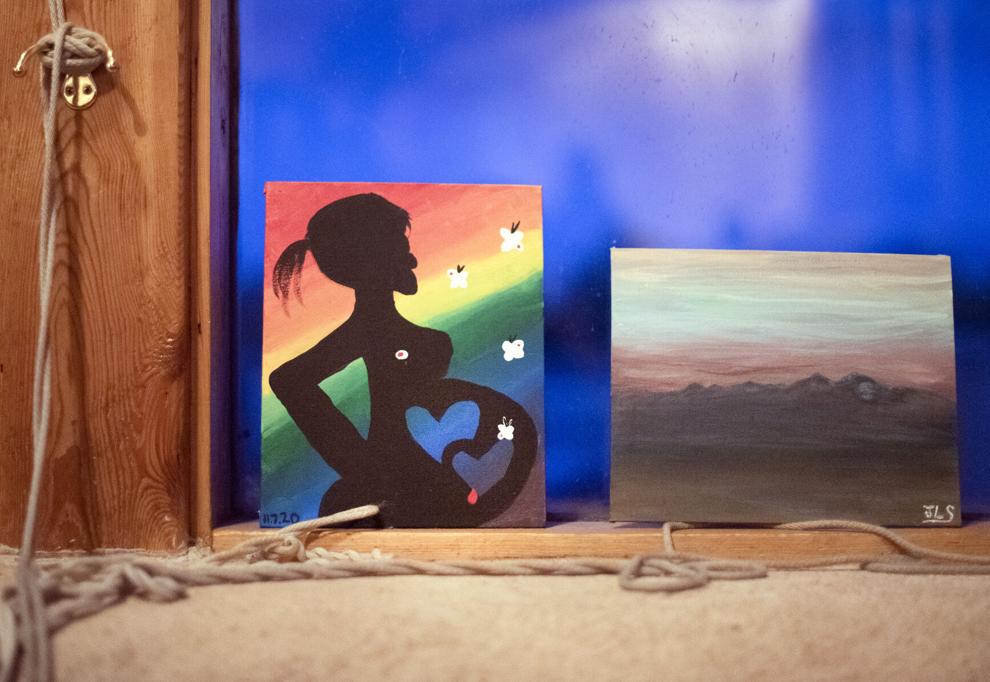 In Affton, you cut your own grass.
"The epitome of middle class," she says. Folks are hardworking, no-nonsense and reliable, with family roots as deep as their community pride. 
Jayme looked forward to holidays with grandma and grandpa Pollard, the matriarch and patriarch of a large Irish-Catholic family. She idolized them. They'd had six kids, and each of those kids averaged another three kids. Family gatherings were huge celebrations, where everyone came to laugh, create music, play games, and support one another.
The warmth of belonging. One day, I want to recreate this feeling, she thought. Not with just one or two, but five or six kids of her own. And so a dream crystallized. 
After high school, Jayme considered college, but found student debt unappealing. She wanted to explore some of the world. 
In 2010, she joined AmeriCorps, a federal agency that brings young people together to tackle service projects nationwide. There she met John Serbell, a six-foot-two Corps member, five years older. It was karaoke night inside a dingy bar that reeked of beer, equal parts charming and trashy. Jayme was thumbing through a song book when he strolled up to the bar. "Butterflies raced from my toes to my earlobes," she later wrote. He devoured books, craved adventure and inspired the kind of laughter that cramped her torso.
Years later, on one knee at the St. Louis Lambert International Airport, John asked her to travel through life with him. He'd surprised her in front of a crowd of her parents, aunts and uncles, nephews, cousins and best friends.
And travel they did. In 2016, the newlyweds sold their belongings to buy a 1996 Chevy high top conversion van off Craigslist, trading a life of suburban security for endless adventure on the road. As full-time nomads, they generated a living by teaching others how to do the same. 
They were married two years when they endured their first loss.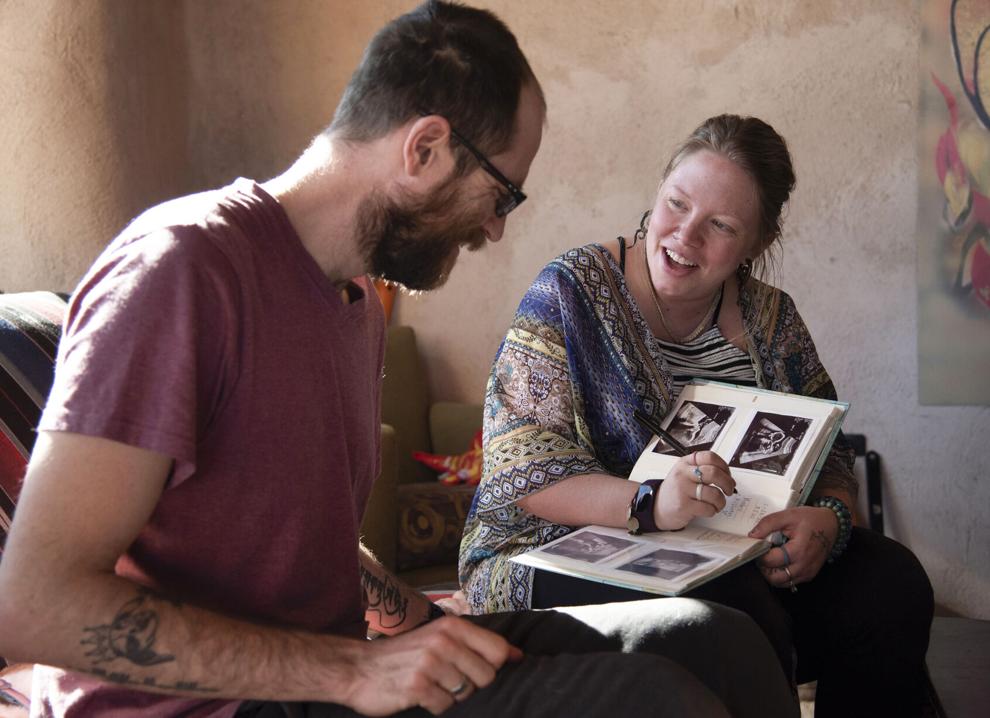 Miscarriage is a conversation largely relegated to the shadows. The experience can sometimes resemble the physical and emotional experience of labor, but when it's over, there's no newborn to welcome or hold. Jayme didn't know any of this before her first loss.
En route to the 2017 Women's March in downtown St. Louis, an unexpected, searing pain seized her uterus. She "didn't know whether to shriek or sob."
Writhing in pain, she begged John to take her home. 
The pregnancy was over before they even knew it existed. It wasn't until two years later that they realized what happened, when Jayme felt the same sensations return. Only this time they knew of the fragile life she was growing.
---
At first Jayme couldn't believe her eyes. She only tested to prove she wasn't pregnant. But in April 2019, holding the positive test in her hands, disbelief melted into bliss. Dozens of books, classes and internet searches taught the Serbells how to care for their baby, but nothing prepared them for the intensity of the love. They both wanted this family.
Then came the blood. Light spotting at first, followed by familiar cramping that buckled her knees. Agonizing hours spent in the bathroom, holding John, where she thought she might never stop crying.
Over the course of five days, her "body was drained of all the love it once carried."
They yearned for the privacy and sanctity of their own space. So in August 2019, the couple settled on a 20-acre property in Carson, west of Taos, where their dogs could run free and the star-drenched skies might bring them some peace. 
But the cruel cycle of miscarriage repeated a third time: a cautious joy, then pain, then anguish. 
Jayme wanted her family close, but she wanted to be alone. She wanted to try again, but also just wanted to wait. Well-intentioned friends gave unsolicited advice.
"Why not just adopt?" 
"You can always try again."
"At least you weren't that far along." 
She gave a tight smile and thanked them, but their words stung. 
Sometimes the grief hung back, letting her forget it was even there. Other times it pressed into all the bruises on her heart. She glimpsed solace on frigid mornings cuddled in bed with their dogs, Nymeria and Delilah, and John, who, with a gentle strength, reminded her that he was right there. They would get through this together. 
---
 In years past, close friends and relatives whispered of their own losses in the fragile first trimester. Few disclosed their own pregnancies until they were "out of the woods," at around 13 weeks, after screenings that help detect fetal abnormalities and when the likelihood of loss is statistically lower.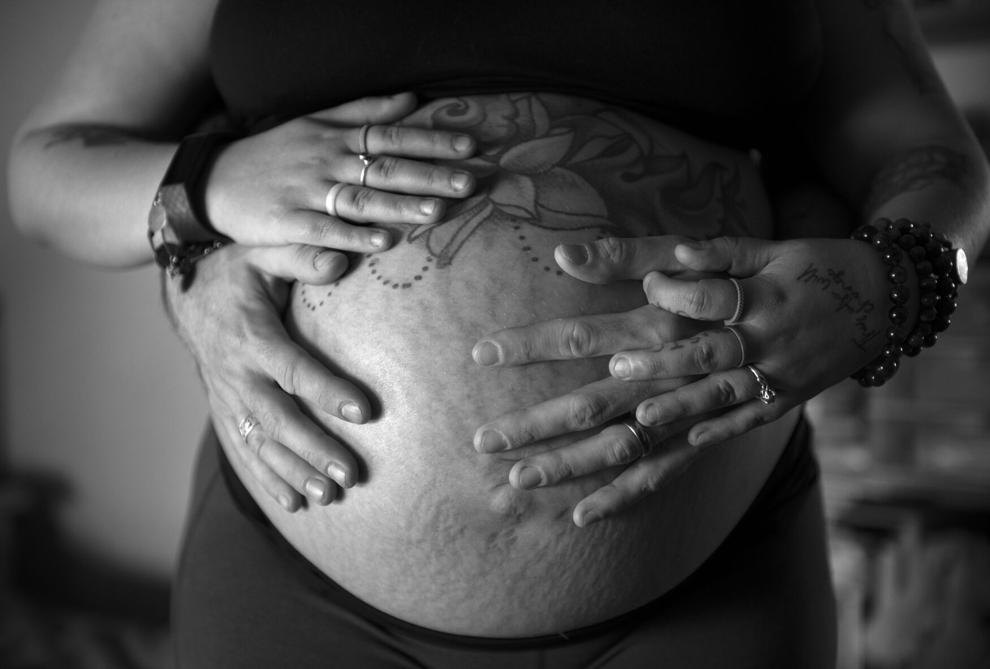 The culture of secrecy around miscarriage leads many to believe it is rare; one survey found that the majority of respondents believe miscarriage occurs in less than 6 percent of all pregnancies. As many as 30-40 percent of all conceptions end in loss, though oftentimes it occurs before a pregnancy is even clinically recognized. For this reason, the American College of Obstetricians and Gynecologists estimates that at least 10 percent of all known pregnancies end in miscarriage. The incidence is about 43 percent higher for Black women than white women, and for Native American women in New Mexico, it's about 50 percent higher than the national average. 
People also misunderstand the causes of pregnancy loss. A larger majority of respondents in the same study believed a miscarriage could be caused by stressful events or lifting heavy objects. Ninety percent of miscarriages in early pregnancies – from four to six weeks – are actually caused by "random genetic or chromosomal abnormalities," said Dr. Michael Ruma, a physician at Perinatal Associates of New Mexico, a clinic of high-risk pregnancy experts. Further along, around 8-10 weeks, genetic error still accounts for half of losses. 
"The way I describe it to patients is that you take these two cells, that you can't even see with your eye, and they come together and form somebody as sophisticated as you – a complicated machine with thousands of parts," said Dr. Tim Moore, Chief of Staff at Holy Cross Hospital, "Sometimes things go wrong in that fusion. But the fact that it does that so well over 70 percent of the time, is miraculous."
In the silence around miscarriage, early losses can feel socially isolating.  
"When we don't talk about it, that doesn't make the pain go away," John said. "Then you're just alone with it."
The Serbells vowed to forge a different course, and in doing so, make space for the spectrum of feelings about pregnancy loss. When the couple saw their fourth positive test, they shared the news immediately. It was July 2020, and COVID-19 was a dark reality. They called family, then shared with their 27,000 Instagram followers. 
"We dream of a world of radical honesty," Jayme wrote on social media. "That includes the highs along with the lows."
They were excited, yes, afraid, very much so, but never alone. 
At six weeks along, Jayme wrote in black marker across her bathroom mirror: "New pregnancy. New outcome." Every morning it reminded her to try and let go of the past. 
Then in August, a routine ultrasound visit revealed not one, but two strong heartbeats. 
Twin boys. 
"I'll never forget John's face," she said. "Instant tears. He was wearing a mask and I could still tell he had the biggest grin."
She pictured the kind of father he might be... teaching their sons about the beautiful complexity of aspen groves, enchanting them with bed-time chapters from Lord of the Rings. Her eyes welled up too. They consulted a list of their favorite names, but deep down, they'd already chosen. 
Seamus and Killian. 
She wanted to pause time and live in that moment forever.
Part II: Embracing the unknown
Holed up inside his car at a Walmart parking lot in September 2020, John passed the time by scrolling through headlines.
Without physical access to friends and family during the pandemic, he and Jayme had moved through pregnancy milestones mostly on their own. At 11 weeks along, the farthest they'd ever been, Jayme called to schedule a routine prenatal appointment when a secretary politely explained that John couldn't accompany her inside or sit in the lobby. The novel coronavirus had rapidly reshaped healthcare, forcing hospitals to refuse visitors for the safety of patients and staff. 
Outside Perinatal Associates of New Mexico's Santa Fe office, John searched for cell service for video calls into Jayme's ultrasound. Five minutes from the hospital, at the Walmart Supercenter, the masked figures on his phone screen were clearer, their speech smoother. 
His sons, Dr. Ruma explained, were identical twins who shared a placenta. Inside, a delicate network of blood vessels connected their separate amniotic sacs. Monochorionic diamniotic twins, or MoDi twins, only occur in about 1 in 300 pregnancies. 
Their boys were okay, John heard, but this pregnancy necessitated closer monitoring. Biweekly ultrasounds were scheduled. 
The crisp, autumn days grew shorter and the pandemic stretched on. The morning of their 17-week checkup, Jayme woke to nerves that upset her stomach. She'd never felt this way before an ultrasound.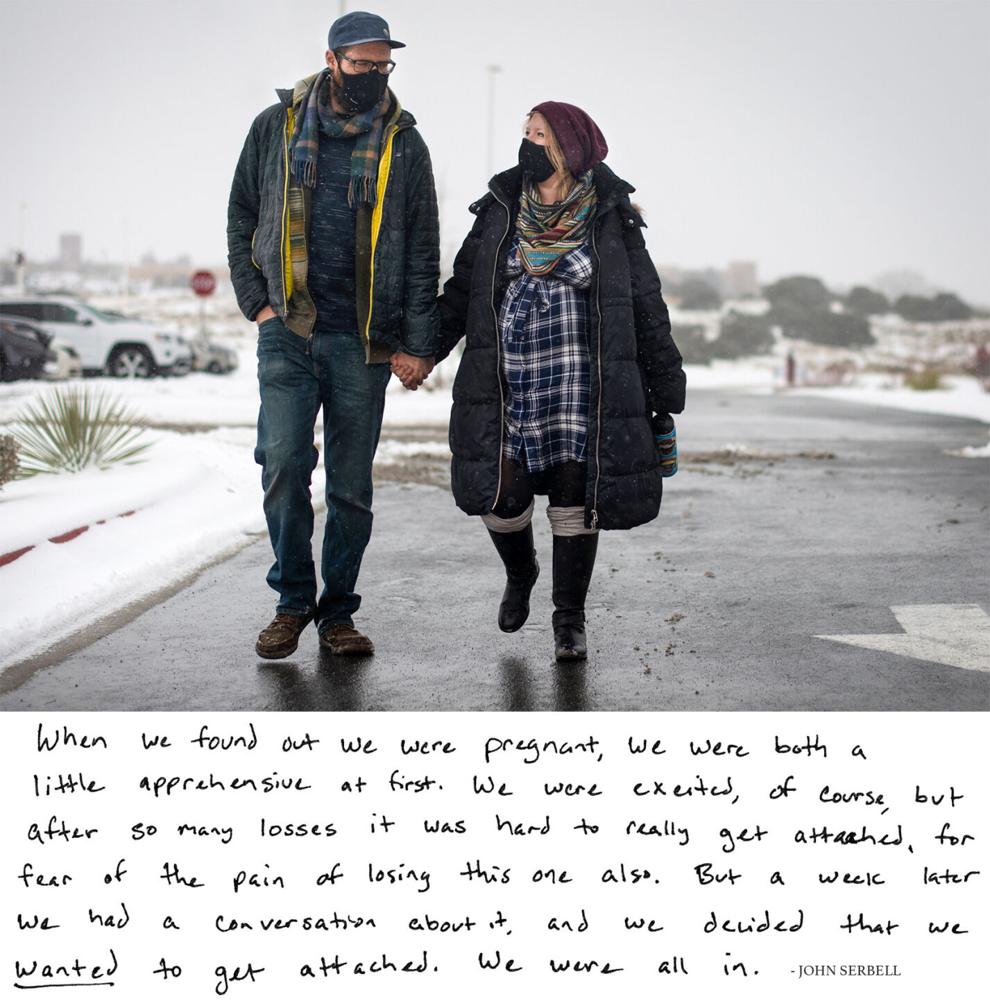 "I feel like we might get bad news today," she remembered saying.
John reminded her to breathe. 
As they drove across sweeping mesas and through canyons from Carson to the Perinatal Associates in Santa Fe, Jayme's dread followed. 
While Jayme signed in and recorded her temperature, John drove to the Walmart parking lot and waited for her call to close the distance between them. The ringtone pierced the quiet and suddenly he saw her. The ultrasound monitor tinted the room an eerie green. Seamus somersaulted across the screen, dancing and waving. Resting on his side, Killian posed for the photo shoot. Jayme giggled with the ultrasound technician, who zoomed in to gather more detailed measurements of Killian.
Then the call went silent.
John studied the screen.
Something wasn't right. 
Jayme's voice bursted through the speaker.
"John, did you hear that?" 
"The doctor needs you to come up here right now."
---
On the fourth floor of Children's Hospital Colorado, an multidisciplinary team of specialized physicians, nurses, sonographers and technicians weave past each other. Together they care for the smallest, most delicate patients in the intermountain west. 
Inside an office at the Colorado Fetal Care Center, Dr. Nicholas Behrendt, a maternal-fetal medicine specialist and fetal surgeon, studied images of Jayme Serbell's MoDi twins. She was referred to his care through the center's relationship with New Mexico perinatal specialists, whose vigilant monitoring days earlier revealed alarming complications. Fetal MRI, echocardiogram and high-resolution ultrasound scans glowed on monitors in front of him. Every metric pointed toward a grim prognosis.
One twin's diaphragm hadn't formed, causing his stomach and intestines, usually in the abdomen, to float up into his chest cavity and impede the development of his lungs. His heart was pushed off to the right. The severe birth defect, a congenital diaphragmatic hernia, showed up only once every 2,500 births, according to Children's Hospital. 
But the defect was the least of his concerns. 
That same fetus, Killian, was 28 percent smaller than his brother. With less than half an inch of amniotic fluid left, Killian was so dehydrated that he was no longer producing urine – all indications of Stage III twin-to-twin transfusion syndrome.
The life-threatening disease occurs inside a shared placenta, when abnormal blood vessel connections direct more blood to one twin than the other. Seamus was overloaded with red blood cells, while Killian was starved. The deficiency thinned Killian's blood, causing it to flow too fast around his little body. When a "donor" twin transfers so much of its fluid volume and nutrients to the "recipient," the organs of the smaller twin shut down. 
In the Serbells' case, the chance of losing one or both fetuses "was about as close to 100 percent as we get," Dr. Behrendt said. Killian's kidneys were already failing. The constellation of conditions, driven by the advanced TTTS, would cause his death at any moment. 
Without intervention, Killian's death would cause a fluid imbalance so drastic and immediate that it could kill his healthy brother too. 
The next 24 hours were critical.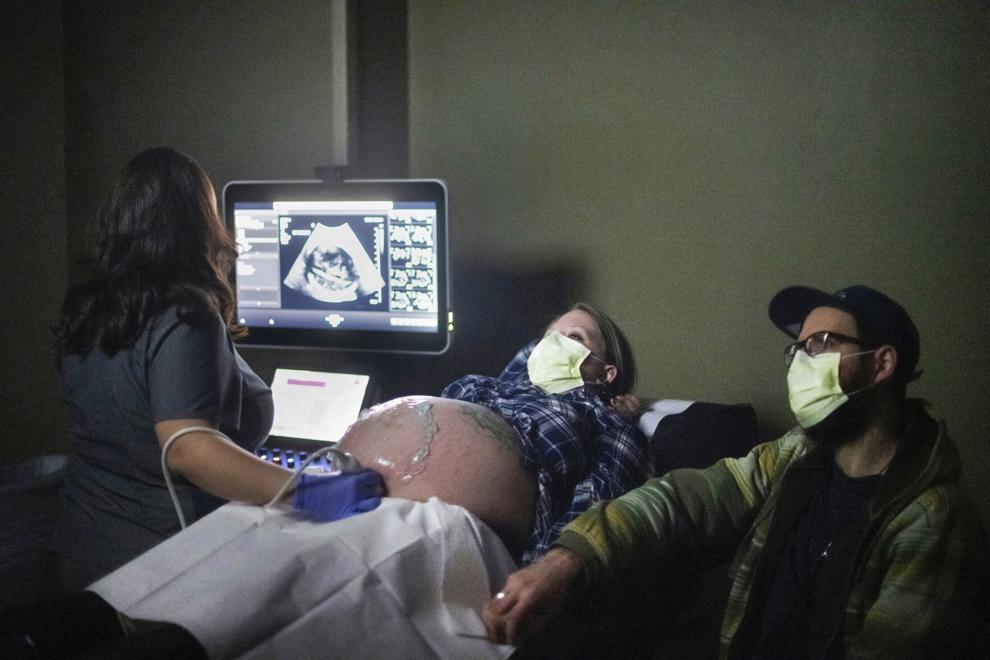 Baby Killian was sick. 
It was the easiest word for Jayme and John to digest in a whirlwind of diagnoses. Holding hands in a private room at the Fetal Care Center, they couldn't believe how fast it all happened.
Just one month earlier, they'd marvelled at their sons' healthy heartbeats. 
Two days earlier, Dr. Ruma gently informed the couple the situation had worsened. Observing a new, lethal combination of conditions, he scheduled an emergency appointment at the Colorado Fetal Care Center. A quaternary-level facility, the center had the resources and technology to intervene where no New Mexico facility could. 
Today, on Jayme's 30th birthday, they learned from the Denver specialists that one of their sons wouldn't survive the weekend.
Dr. Behrendt repeated himself, making sure they understood: "There was nothing they should or shouldn't have done… When pregnancies start and advance, these complications can happen." The timing of the disease progression and the unequal share of the placenta are random events. This could have happened to anyone. 
Their best option, Dr. Behrendt explained, was a radiofrequency ablation procedure, which could interrupt the blood vessel connections between fetuses. With ultrasound guidance, he could use a tiny needle to transmit high-frequency radio waves into Killian's umbilical cord, generating enough thermal energy to coagulate blood flow. 
By blocking off Killian's life source, they could give Seamus the fighting chance his brother never had.
The Serbells spent hours in the room with Dr. Behrendt, desperate for solutions that might keep both boys alive. Eventually there was nothing left to ask. If they chose to do nothing, they could lose both of their sons. 
They scheduled the procedure for the following morning. 
---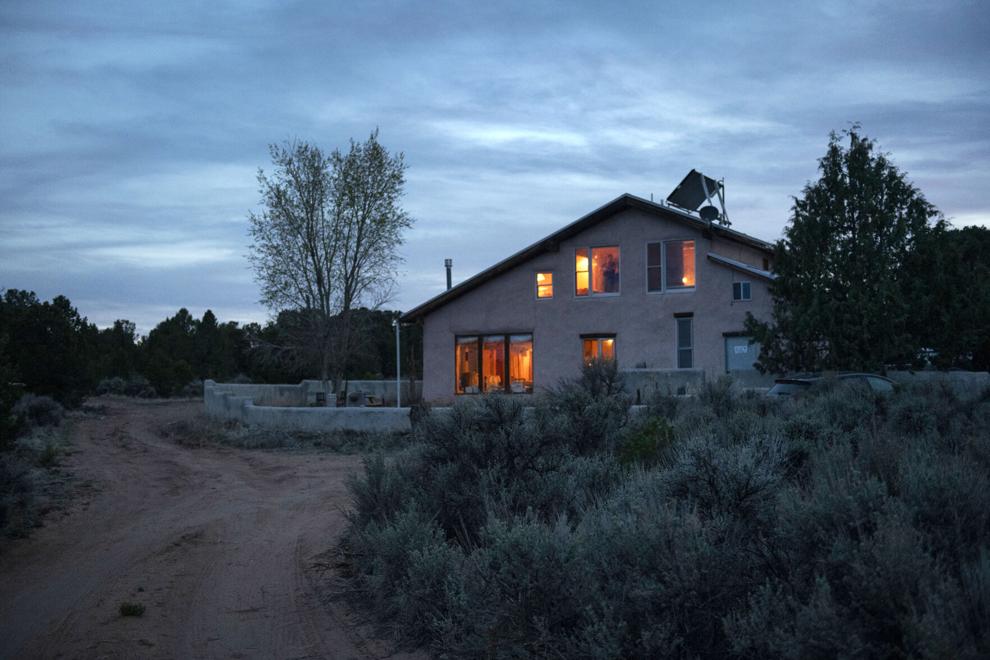 That night, the couple called family, one by one, in a haze. First her mom. Then his parents. Then her dad. Then her sister. 
Jayme was stoic as she relayed the facts: Killian was too sick. They were going to lose him. Tomorrow's procedure could save Seamus. 
She remembers their last call to her older brother. 
"Is there anything you need?"
"Not that we can think of." 
"Well, is there anything you guys want?"
She broke into sobs, overwhelmed by one thought.
"Two healthy boys…"
In their hotel room, Jayme cried so hard she could barely breathe. Her eyelids were swollen and her limbs were heavy from their 11-hour day at the hospital. But she refused to sleep, because then they'd have to wake up moments closer to saying goodbye. 
John wrapped his arms around her, resting his hands on the right side of her belly, where Killian laid a few inches below. She placed her hands on top of his. They whispered to Killian how deeply they loved him. How brave and strong he is. That they did everything they could to save him. "Watch over Seamus. Give him your strength."
"Me and my three favorite men, for one final night of us all breathing together."
Part III: 'This also will change'
On Nov. 1, 2020, the Serbells drove home to Carson. Killian had been so sick and close to death during the procedure that he died almost instantly, at 19 weeks and 4 days old. Removing him from the shared placenta could harm Seamus, so Killian needed to remain inside Jayme's womb, next to his brother, until the day she delivered them. 
Inside, the Serbells set up an altar to honor their son, complete with sonograms and red candles – the color of the strong, warm aura they envisioned for him. 
Mourning Killian elicited a deeper, more complex grief than any of their prior losses. This time, the lingering void was tangible; Killian had fingers and toes they could count at each ultrasound. He had a name. A personality.
"I know [Killian's] in me but I can't feel him kick," Jayme shared in November. 
The couple swung between two opposing realities – excitement for their breathing son, whose weekly tests showed healthy, normal growth. Then heartbreak for his late brother, and a future that would never be. They tried to stay busy, but little tasks were the heaviest. They updated the baby registry from twins to just one child, removing doubles of every item and changing "theirs" to "his" and "they" to "he." They packed a hospital bag, then shopped for an urn. Doubt lingered in the air like a cloud over the parents-to-be, dampening hope that they might one day hold a healthy newborn.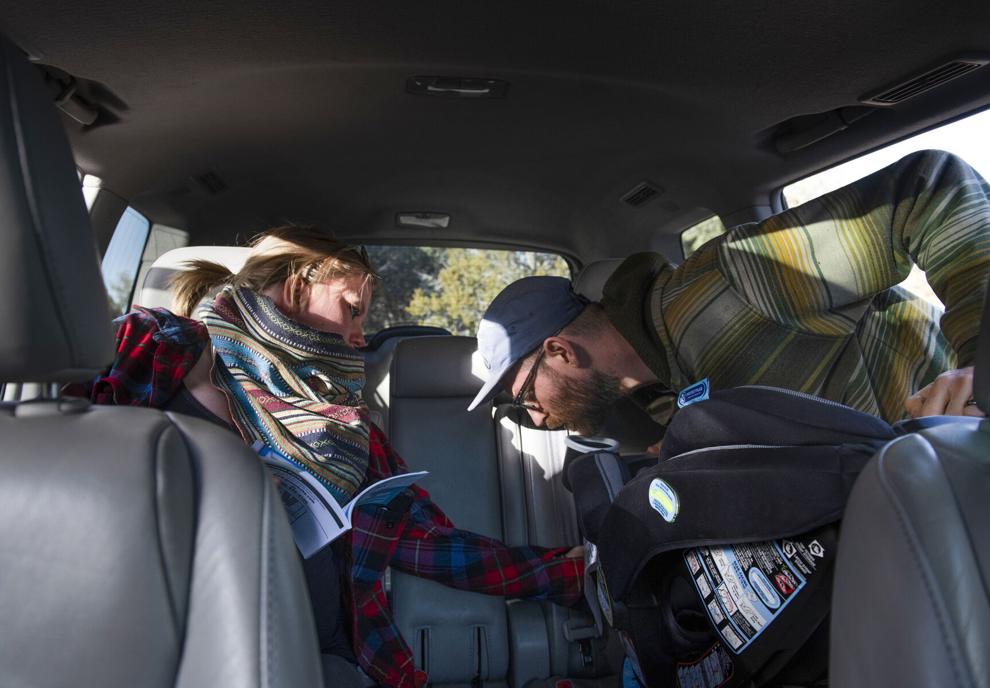 "Every time we'd hit these milestones," Jayme said, "in the back of my head I was thinking, 'that doesn't mean anything. That doesn't mean we're going to hold a baby. We don't know if that's gonna happen.' We were robbed of that excitement."
On her left hand, the tattooed words, "this also will change," reminded Jayme that both joy and despair were temporary. The couple took each day moment by moment, breath by breath. They celebrated Seamus in every way they could, sometimes singing the Beatles to Jayme's belly. 
"Here come our sons... little Seamus, it's been a long, cold, lonely winter…"
As self-employed writers, the Serbells were part of a minority of Americans who could take time and space to process their grief. Despite the increased likelihood of post-traumatic stress disorder, anxiety and depression in both partners following pregnancy loss, no federal law requires employers to provide leave for healing from miscarriage or stillborn births. Eligible families can use the Family and Medical Leave Act for 12 weeks of unpaid leave, but the time off is intended for the medical difficulties associated with the loss, not bereavement. 
Navigating loss was an isolating experience on its own, but the backdrop of a public health crisis due to the coronavirus created a special kind of powerlessness on top of pain. Simple routines vital to the grieving process, like visiting family and friends, risked contacting the virus. Pregnant women were twice as likely to die from COVID-19, Dr. Ruma warned them. 
Against the world's immeasurable grief, it was hard to make space for their own.
"I sometimes feel I'm not allowed to still be mourning," Jayme wrote on the anniversary of their second miscarriage. "There's much larger things going on in the world."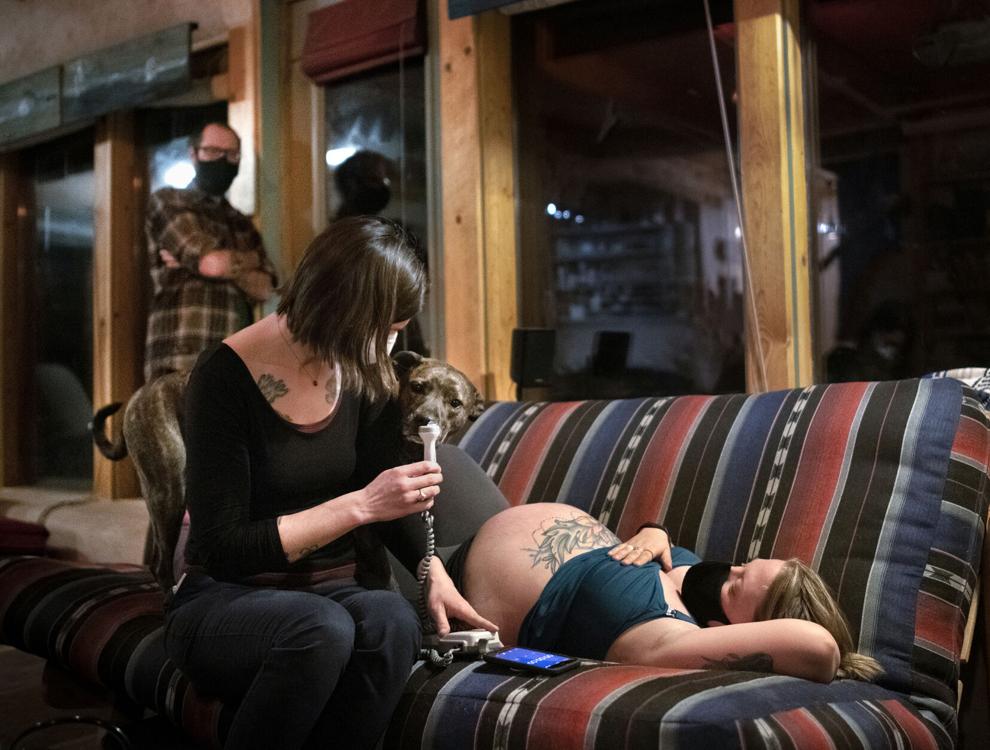 In the same way the public health emergency transformed the landscape of death and mourning, it changed the way families welcomed new life. Parents missed the birth of their children and their partners endured labor alone. When hospitals eased their visitation policy to one support person, families still missed out on the support of licensed, direct-entry midwives, who undergo training to provide maternal care in low-risk, uncomplicated pregnancies. 
New Mexico has one of the highest proportions of midwife-assisted births in the country, with midwives attending more than 1 in 4 births, far greater than the national average of 1 in 10 births, according to federal data. 
During the coronavirus pandemic, midwives nationwide received a surge of phone calls from families seeking an alternative to the hospital birth environment. One of those was from Jayme and John Serbell, who'd always dreamed of a home birth. Following her procedure, Jayme was at low-risk for birth complications, doctors said. 
Choosing labor in a less restrictive environment felt like a way to regain some control in a climate of uncertainty. Jayme was also motivated by a lifelong fear of hospitals, which to her had a "lingering feeling of sickness, pain and death." She craved the warmth of home beneath her feet, their sweet dogs by her side, and being held by the one she loved. 
In their own space, they hoped for the freedom and autonomy to take their time with the hello, as well as the farewell.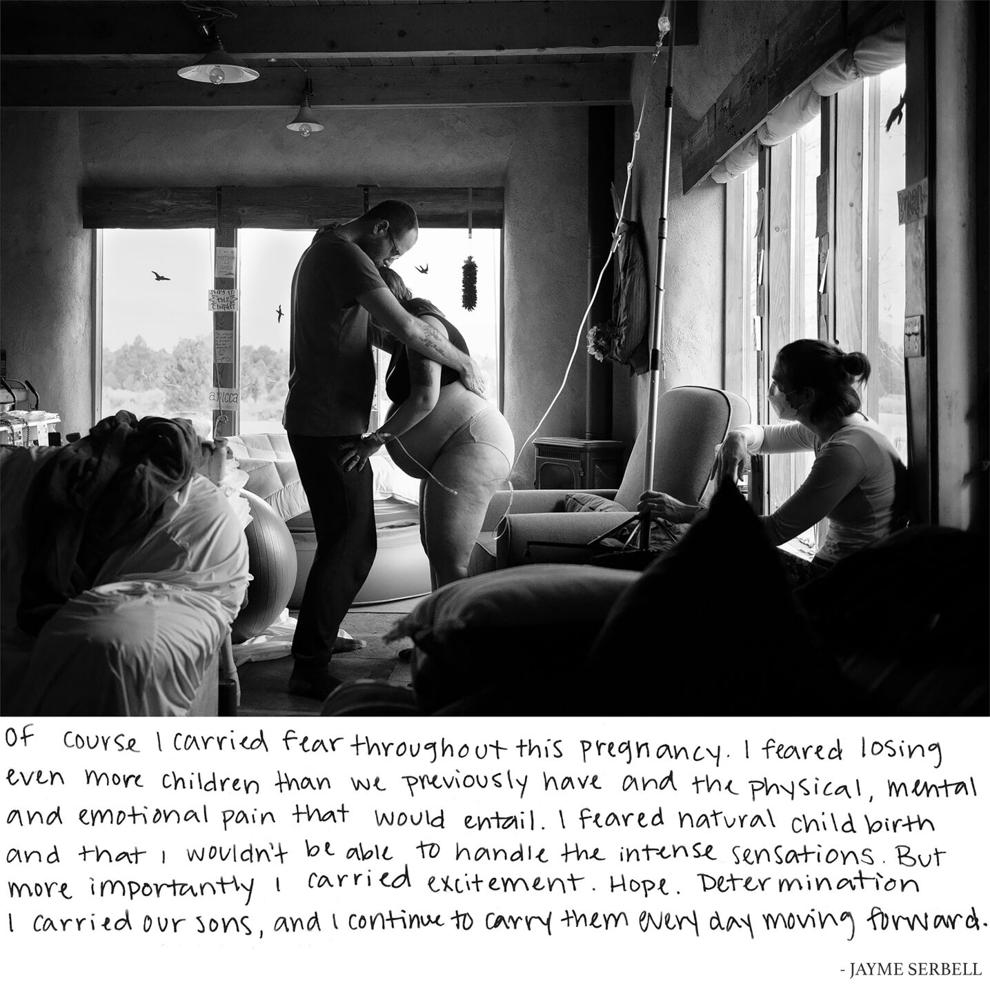 Part IV: 'He was ours'
Dorothy Kaeck's phone buzzed at 3:10 a.m. on March 10, 2021. She slipped into a familiar groove, engrained over 12 years as a certified professional midwife, and for the last eight of those years, as a state-licensed midwife in Taos. Neatly packed suitcases in the backseat of her car carried IVs, neonatal resuscitation equipment, oxygen tanks, and an array of drugs to prevent infection and stop bleeding. She triple-checked all her gear, brushed her teeth, and set off into the night. 
Jayme moved through waves of early labor as the sun spilled across the horizon. A list of labor to-dos reminded them to keep busy: "fill up [birthing] pool," "puke bucket in bathroom," "bring pillows downstairs," "breathe + enjoy this time together." Kneeling next to Jayme and holding a fetal doppler, Dorothy listened to the baby's heartbeats. Pressing her other hand into Jayme's belly, she felt for Seamus' movements while inching the probe across her skin. John held Jayme through the pain, occasionally pressing into her back to relieve pressure.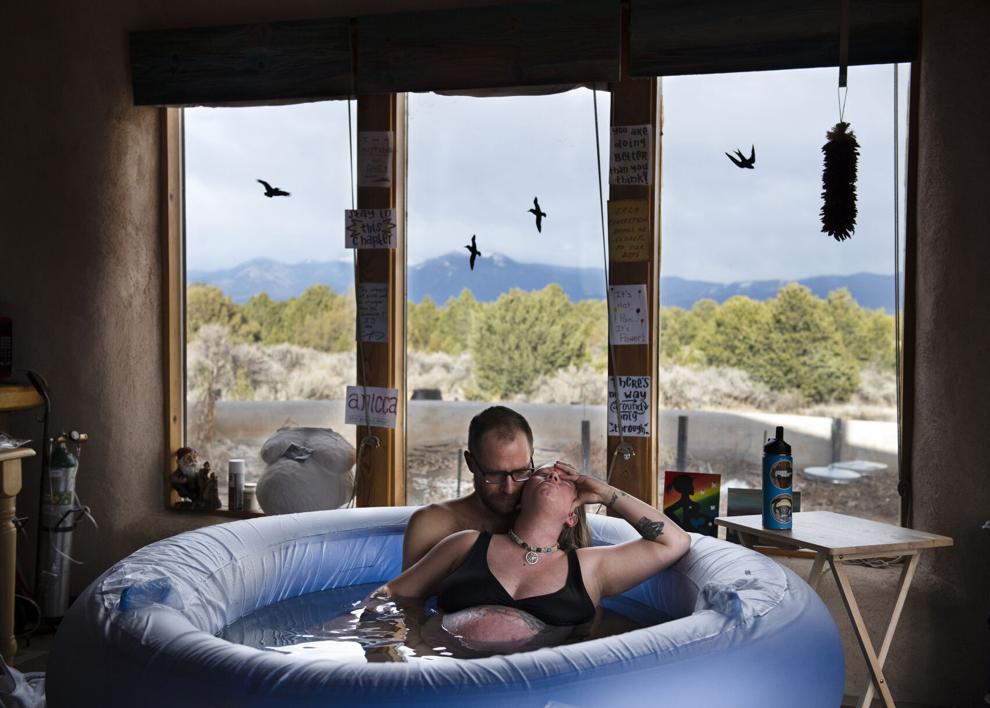 "I was just trying to ride the waves with her and hold her up as best as I could," John later wrote. "She was going through a lot, but I knew she could do it, and I needed to make sure that she knew that too."
When the contractions intensified later that evening, the couple transitioned to an inflatable birthing tub. Nymeria trotted around the pool, offering licks of support, while Delilah hid under a cushion. Dorothy's birth assistant, Rebecca Borrego, arrived to lend support. The team swirled around the couple, checking heartbeats, blood pressure, vitals and dilation, replacing cold cloths and holding hands. In the flurry of activity, they cared for her spirit as well as her body. 
Energy surged and waned in the room as Jayme entered a new somatic rhythm. Moving her hands to grip the sides of the tub, she pushed. John, Dorothy and Rebecca rallied.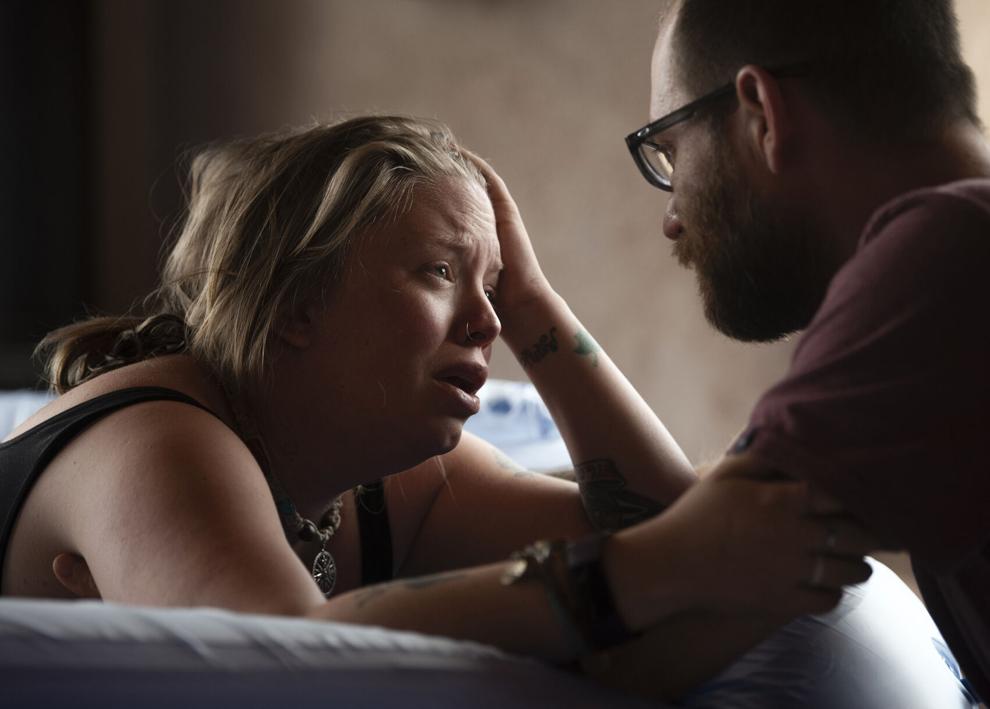 "I'm scared," Jayme said. 
"You've got this," Dorothy said. 
"I don't know if I can do this."
"You can do this," John said. "You are doing this."
At 5:52 p.m., Dorothy raised their newborn out of the water, and in one swift motion, onto Jayme's chest. Newborn cries filled the room – the miraculous sound of lungs expanding with air, filling millions of tiny air sacs for the first time. 
Jayme felt his body rise and fall with each breath. He had her nose and John's eyes, and tiny hands that wrapped around their fingers. John pressed his tear-glazed cheek against hers. They wept. 
"Our boy, our boy, we did it," Jayme whispered.
"You have no idea how long we fought for you."
---
The vast majority of birthing parents safely deliver the placenta within 30 minutes of birth, but between 1 and 3 percent do not. 
Jayme Serbell once again found herself on the narrow end of statistics. 
About two thirds of her placenta had adhered to the uterine wall; the rest came out in shreds. Untreated, a retained placenta prevented the natural postpartum contraction of the uterus, leading to severe hemorrhage. Dorothy sprang into action – calling the ambulance to transfer Jayme to Holy Cross Hospital. There, she would undergo a procedure to remove the retained tissue. Dorothy's decision helped save Jayme's life. 
COVID-19 protocols prevented anyone from accompanying Jayme in the ambulance – not her midwife, husband or newborn. 
Dorothy was planning John and Seamus' transport to the hospital and conducting Seamus' newborn exams when Rebecca rushed to the doorway. 
 "You need to come out here," she said. "It's Killian."
The birthing pool was almost empty when they saw the little body curled up in the water, no bigger than a mango. His skin was smooth and pearly white. At John's request, Dorothy cupped her hands around the couple's son and tenderly lifted him from the tub. She wrapped him in soft blue cloth and placed him in a wicker basket.
"There are moments in life that feel so holy, that you shouldn't even touch them," Dorothy said. "This was one of those." 
Jayme had delivered both twins at the same time, they realized. Because Killian was so much smaller, he had drifted out of sight, obscured by the clouded water. But he'd been with them all along.
"He was so perfect," John later wrote. "He was ours."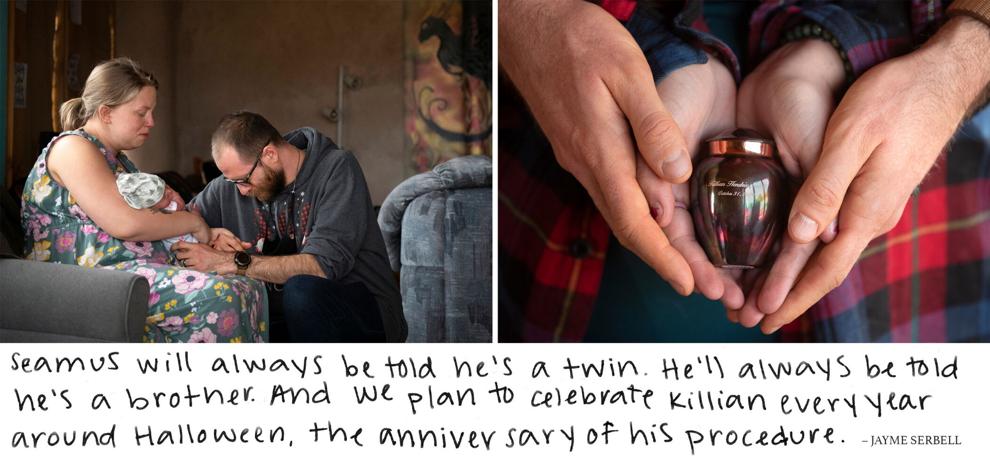 On a cool Saturday night in April, the home is quiet and dimly lit. A red votive candle burns on the windowsill. Tucked next to a photo album of sonograms, an iridescent urn bears the inscription "Killian Hendrix Serbell, October 31, 2020."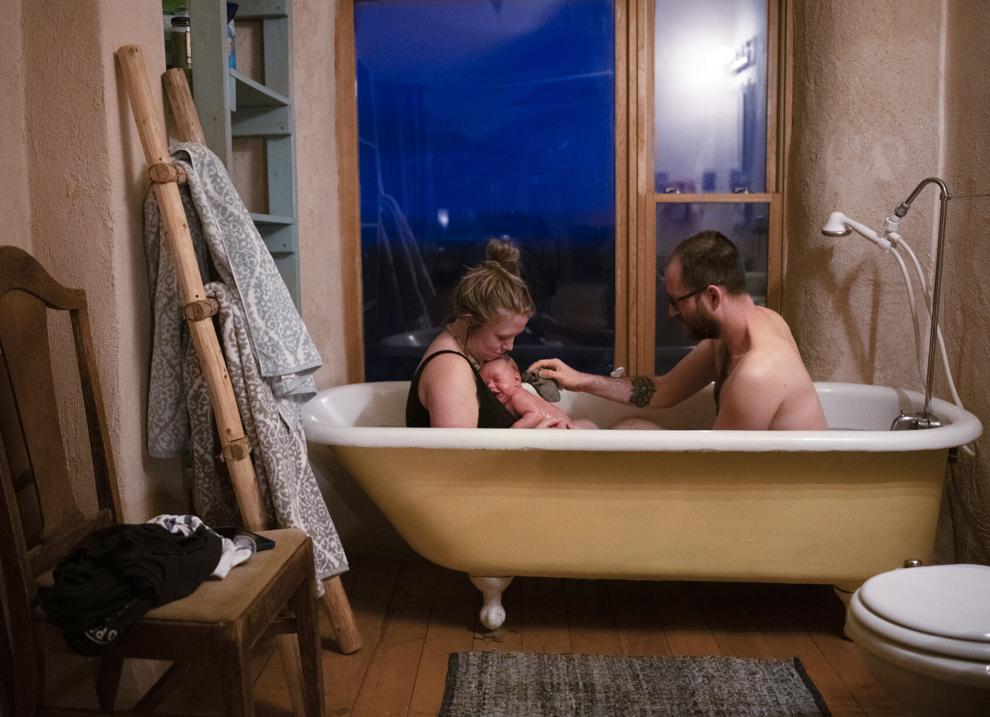 "We want to keep honoring him," John said.
"[Killian] will always be a part of our lives," Jayme added. "Seamus will always be told that he's a twin."
Holding Seamus, now six weeks old, Jayme and John climbed to the top floor of their home, where a freestanding bathtub overlooked a rolling expanse of sage. They turned on the tap and stepped into the tub, cradling Seamus for his first bath. Warmth rose around them. Seamus stretched and cooed as John dabbed a soft cloth over his skin. Jayme gazed at their little being. Deep blue eyes peered back at her with a brightness that smoothed the grief's jagged edges.
They would teach their son that most battles in life will be mental ones. And that in this family, success was measured by "how they faced those battles, and continued to step forward." 
She leaned over and kissed her boy.