59 results total, viewing 1 - 10
Angel Fire Ski Resort hosted the 38th annual "World Championship Shovel Races" Friday and Saturday (Feb. 3-4).
more
The centuries-old tradition of celebrating the feast days of Taos' patron saints, Santiago y Santa Ana, is all things Taos — a gathering of generations to enjoy authentic food, traditional …
more
On any given evening in the well-equipped kitchen of Old Martina's Hall at 4140 State Road 68, Ranchos de Taos, Chef John Lamendola is expertly preparing food from one of the most …
more
By T.L. Testerman
tempo@taosnews.com
|
3/2/18
There once was an Ojibwe girl who had become very sick, so her father asked for a vision in hopes her life might be spared. That night, he dreamed of a special dress and a dance that went with it. …
more
By Rick Romancito
The Taos News
|
7/7/17
The Enchanted Circle roars with thunder as more than 20,000 bikers from all over the country get set to rally on Red River's Main Street this weekend for a military memorial extravaganza and alt-biker cult revival.
more
By Virginia L. Clark
|
5/26/17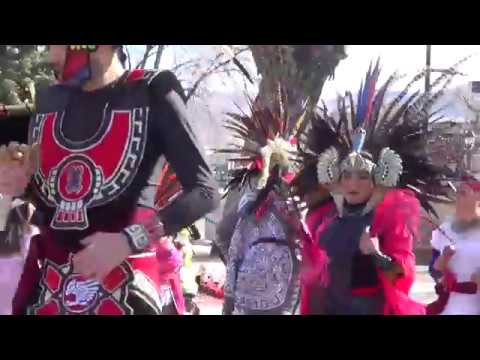 Video: Día de Cuauhtémoc
[Video]
During this year's Aztec dance and music ceremony, women, water and Anne Lujan, of Taos Pueblo, were honored.
more
By Rick Romancito
|
2/27/17
For more than a quarter of a century, the sacred Tibetan arts of chanting, sand mandala painting, dance and ceremony have been shared across the world as part of the Mystical Arts of Tibet tours by the monks of Drepung Loseling Monastery.
more
By Ariana Kramer
|
11/26/17
Holiday traditions are forged by a coming together of like-minded folk. The annual Lighting of Ledoux is a special gathering of the whole community to celebrate the season.
more
By Yvonne Pesquera
|
12/2/17
The 34th annual Taos Wool Festival is not a "b-a-a-a-d" way to spend the day. "Ewe" will be impressed by the outstanding "herd" of vendors offering exquisite fibers and finished products.
more
By Yvonne Pesquera
|
10/6/17
Halloween night in Taos – it's frightful, delightful and always a sight full! Whether you are looking for some low-key fun or desiring to be in the thick of it, Taos has something for everyone. Here is a rundown of things you can do to celebrate.
more
By Ariana Kramer
|
10/29/17